Best CRM For WhatsApp In 2022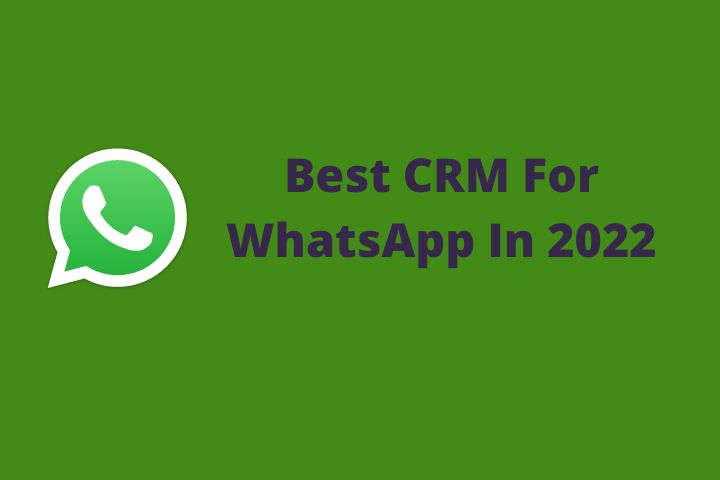 Best CRM For WhatsApp : If you want to expand your sales channels so that your audience can get in touch with you quickly and efficiently, WhatsApp is the perfect channel for both your customers and prospects to reach your brand immediately.
Although WhatsApp was not born as a marketing tool, companies can use this channel to offer and sell their products and services. In fact, it is quite likely that your company already uses this platform in its sales processes, but is your team being efficient enough when managing these conversations, avoiding applying manual processes to correctly manage all these chats?
Without proper management of WhatsApp messages, a company can be overwhelmed by the number of messages it receives: where was yesterday's conversation with that contact? Which of these contacts was the one that expected an immediate response? 
These are just some of the scenarios that your team would be faced with without proper management of all the contact information they receive through WhatsApp. However, with the inclusion of a CRM tool in this equation, those scenarios change dramatically.
Boost Your WhatsApp Strategy 
A CRM is a tool that gives you multiple advantages: apart from being easy to use and acting as the central axis of your data, it is a system that allows you to integrate different applications and software to carry out the management of your business and with your customers. Companies of all sizes, from startups to giants like eBay or Amazon, are a clear example that having a CRM helps you offer better service levels and, consequently, grow better.
In fact, service is an area of ​​vital importance, especially in our region: up to 90% of users who purchase products and services say they have made such purchases due to the good level of service they received when interacting with a certain business. ; even more than 20% of users would prefer to reject a good offer if the level of service is not what they expect.
According to a survey carried out by Statista, 64% of people on average in Latin America use this platform, and more than 13% of Spaniards claim to use the tool at least once a day. The popularity of this tool is such that WhatsApp developed WhatsApp Business: the business version of the application, through which all requests from both customers and prospects are managed.
How To Boost Your CRM With This Tool?
The integration of CRMs with WhatsApp Business, it is much easier to receive notifications and respond instantly to your users' questions without losing track of who they are, since all messages reach a single system without the need to switch between different platforms.
By integrating a CRM for marketing and sales teams with WhatsApp, you can immediately answer all the questions of your users and prospects. So you won't waste time searching for old emails or previous notifications to find out where you left off a conversation. As you can see, the advantages are clear. By integrating both tools you will be able to:
Notify your users about changes or updates to your systems;
make surveys quickly, because with a CRM you will be able to group all the comments about your level of service;

gather different data to analyze your target audience;

send weekly notifications, personalized offers and delight your customers so that they continue purchasing your brand's products and services.
CRMs That You Can Use With WhatsApp
Hub Spot

Zoho

Sugar CRM

Salesforce

Microsoft Dynamics