Hybrid Work | Welcome To The Hybrid Office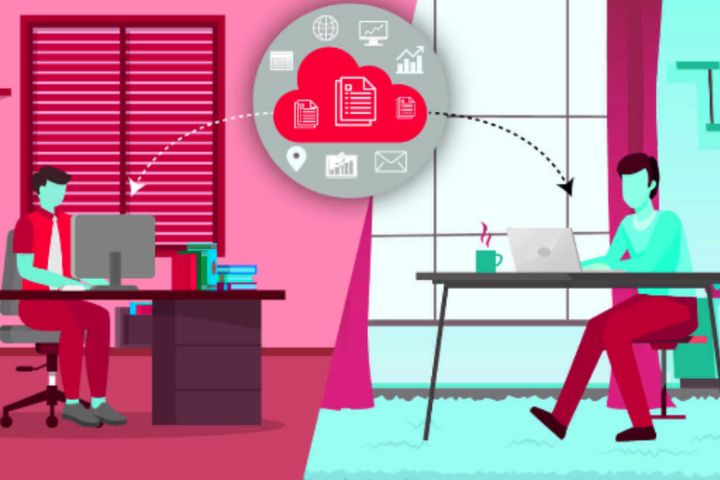 Hybrid Work : The first step in starting to put effective hybrid working models in place is recognizing the value of these models as a unique opportunity to drive change.
New Ways Of Working
For everyone, the recent return to the office has not been like other years. After the summer we have landed in a panorama where the remote, the virtual, and the face-to-face configure new ways of working.
Bet On Hybrid Work
According to a recent report led by the Boston Consulting Group, 65% of managers are committed to hybrid work as a permanent work model. In fact, one in four of those interviewed is inclined to prioritize telecommuting, leaving the office for specific issues.
According to the same study, only 10% of managers opt for an eminently face-to-face model. And it is that, according to the consensus of international experts, teleworking brings real advantages:
It facilitates conciliation and concentration.

Increases productivity (up to 19%) and quality of work (up to 18%).

In addition, by reducing travel, it favors not only saving time and money but also significantly stress.

Improves environmental impact.

It enables people to do more with their time, enabling them to design more fulfilling lives.

And it opens up the opportunity for companies to attract and retain talent across geographic locations and time zones.

risk of exhaustion

But it is also true that

telecommuting

can be a double-edged sword.
According to the Anatomy of Work Index 2021 study, carried out by Asana —one of the leading companies in 'cloud' solutions for project management and team organization—, in the new world of remote work, employee burnout is increasing.
The study is based on interviews with more than 13,000 people from around the world. He assures that "exhaustion continues to grow and workers spend more than two-thirds of their time on the details of work ".
Tips And Tools For Effective Hybrid Working Models
Opportunity and leadership approach
We are convinced that the first step to start establishing effective hybrid work models is to recognize the value of these models. They are a unique opportunity to drive change. We know that it is not easy to adjust all the points that a new work configuration implies, starting with defining what is the most appropriate combination of teleworking and face-to-face work for my company. In this regard, experts recommend placing trust in the teams so that they organize themselves autonomously.
Cloud collaboration
This new hybrid paradigm of working life requires every company to create a digital work environment that favors autonomy and efficiency. This environment will necessarily require the promotion of multifunctional work using tools 'in the cloud', both for synchronous and asynchronous communication.
Whatever their implementation within a hybrid working model, these tools must be aimed at prioritizing the alignment of collaboration best practices. Only then will they be able to help organizations make significant progress towards creating a modern, equitable, effective, and sustainable work environment.
Slack
Slack is a communication tool for businesses that offer the ability to create chat rooms or 'channels' organized by topic, as well as private groups and direct messages.
Asana 
Asana is a SaaS (software as a service) designed to improve team collaboration and work management. Help project managers organize, assign, track and manage the actions of their teams. It also includes reporting tools, attachments, calendars, etc.
Evernote
Evernote is a powerful tool for organizing personal information through the 'notes' file. It is ideal for saving all kinds of multimedia content (such as photos, pdf documents, and audio files). In addition, it makes all this content easily and safely accessible from any device.
Miró
Miro is an online collaborative whiteboard platform that allows teams distributed in different geographical locations and time zones to work effectively.
Trello
Trello is a visual work management tool that enables teams to ideate, plan, manage, and execute tasks in a collaborative, productive, and organized way.
Notion
Notion is a Swiss Army Knife, an all-in-one management application. It provides databases, wikis, and kanban boards, plus features for notes, events, reminders, and more. Users can connect these functions in their own way to create their own project development and knowledge management systems.
Loom
Loom is an asynchronous video messaging service. It allows you to record with the camera and share the screen of our computer in a simple way. It is extremely useful to explain in a few minutes, through simple videos, what would take several paragraphs and a lot of time to explain in text mode.
Guru
Guru is a knowledge management wiki that uses artificial intelligence to improve the performance of teams specialized primarily in sales, support, and customer service.
Limit technologies
But in this new hybrid paradigm of working life also lies another technological challenge.
How, with work teams distributed in different geographical areas or time zones, can we collaborate effectively without contributing to tool fatigue?
It is undeniable that we depend more and more on digital tools. And above all, we will continue to do so in a world dominated by revolutionary and amazing advances in quantum computing.
Therefore, more and more, we will be forced to discern the limits necessary to achieve well-being and prosper in a world that increasingly blurs the line between home and office.
In this panorama, the premise will be to develop a critical conscience that imposes limits on the tools we use. And also to the way we use them and when we use them. Only in this way can we promote greater and better moments in our lives where the most optimal and rewarding thing is simply to disconnect.