All You Need To Know About Web Personalization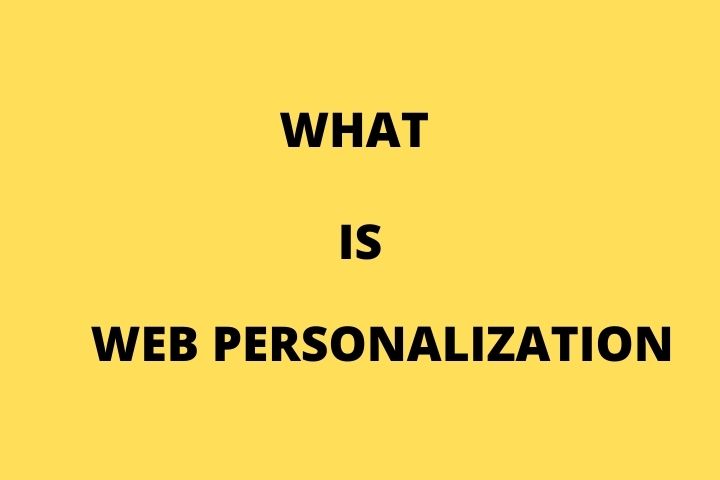 The web personalization is a practice that many companies are already using to improve conversion of their sites. In this post, we are going to find out what this is about personalization and how to use it in your business;)
Something we all know is that it is increasingly necessary to go one step further and offer differential value to improve the user experience and invest in loyalty actions with the aim of increasing sales and the conversion rate. To achieve this goal, it is essential to consider the implementation of personalization strategies.
It is a fact that user behavior has evolved as eCommerce takes hold in our day to day. User habits change , not only because of new browsing habits or assuming new and different shopping times, but also because users react in different ways according to the proposals or responses they receive from online stores. 
Digital personalization consists of customizing a customer's shopping journey in real time … or in other words: we all love being pampered, looking out for our interests and taking into account our preferences when browsing a website, well, this is the goal of personalization: to show users content that reflects their personality and preferences, offering a personalized shopping experience.
One of the most important aspects to achieve quality personalization is to know the users in depth , know their tastes and interests, the way they navigate the site, etc. This will bring us one step closer to achieving an increase in sales , since the products we offer are in line with user tastes. In the same way, it will help us to increase the response rate , since it is much easier to get a user to click on a product / service that is of interest to them, than on another that shows generic information.
Personalize Your Audience
It's no secret: Web personalization depends on your audience. And it is not possible to create personalized experiences if you do not know your audience beforehand, so … the first step to web personalization is to research and analyze ! These are some of the key points that you should pay attention to in order to better know your target audience
What do your clients say about you?
What problems do users encounter with my site? What do they expect from the company website? What are the most wanted products? The answer to these questions is often closer than you think, you just have to take a look at your Call Center, Chat, Social Networks .
Ask them directly!
Sometimes it's as simple as that, create a survey for your customers and have them help you improve. What are their expectations? What are your frustrations? What do they like about your website? And if what you want is for the interaction to be high, and for the data to have a relevant quantitative volume, offer an incentive, a small discount, a raffle .
Analytics tools: what do I want you for !?
Well, to use it! Analyze what behaviors are repeated among your users, the pages with a high bounce rate, those that generate less interaction, those with the highest abandonment rate, etc. Reviewing these parameters we must answer the following questions:
How do my users navigate my website?

What pages cause confusion, dropouts, or sticking points?

What are my audience peaks, conversions, and daily / monthly / yearly sales?

What is the average order value for my website?

What type of subscribers do you have?
Also Read : How To Boost Inbound Marketing Strategies