All You Need To Know About SpO2 Watches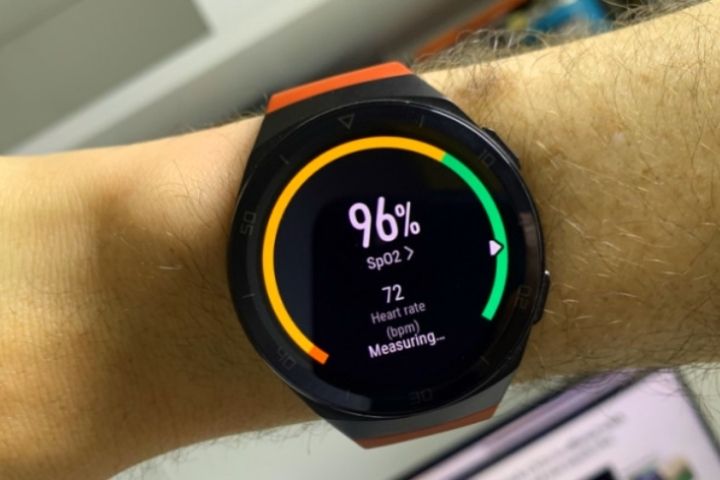 We're giving insights on SpO2 watches in this article. Smartwatches and watches with an oximeter or pulse oximeter measure oxygen saturation in the blood, something that has become one of the metrics that has aroused the most interest. A blood oxygen meter can help detect sleep apnea or breathing problems.
Generally, a percent oxygen saturation greater than 95% is considered a normal reading. If you see a score of 92% or less, then it might be time to do more research and consult with your doctor. However, keep in mind that smart watches are not precision medical instruments, but they can be very useful 
On the other hand, you will see that there are a large number of models of watches with oximeters and fitness bracelets that include an SpO2 sensor. In the following list, we have selected what we consider the most outstanding quality-price oximeter watches.
Withings Scan Watch
The Scan Watch is a health watch, not a sports watch. It achieves this thanks to the ECG sensor and the measurement of oxygen saturation in the blood.
The electrocardiogram ECG works by taking a spot reading on the device. You can also check SpO2 by monitoring your breathing while you sleep for signs of respiratory disturbances.
This is done from within the Scan Watch itself and only requires you to remain motionless for 30 seconds. Results are recorded in the Oxygen Saturation section of the Health Mate app dashboard.
In general, these health functions, together with the blood pressure monitor, are well implemented and are among the most useful on the market.
The Best Watch To Monitor Your Health
Tracking respiration at night is the most useful application, and SpO2 spot checks are of limited value. That makes the Withings Scan Watch much more useful than many oximeter watches out there.
The Withings Scan Watch is a well-made, stylish and attractive hybrid watch. It does not seem that you have a smartwatch on your wrist, but a beautiful traditional watch.
It has no apps or GPS, therefore it cannot offer significant progress during controlled workouts. However, steps are accurately tracked and progress is displayed on the inserted physical dial. It will also monitor your heart rate 24/7 and at rest, which is an essential metric to warn you of changes in health.
Displays the notifications, which are activated on the AMOLED screen. You won't see an entire email, but you will see part of it and who sent it. So if you are looking for an attractive health device, the Scan Watch is one of the best options on the market.
Pros And Cons
✓   + Good design + One of the best watches with a SpO2 sensor + Excellent sensors and health statistics + A very complete app.
✗   -Not a great choice for sports tracking.
Apple Watch Series 6
The SpO2 sensor has been included in the Apple Watch Series 6 , which can now take spot readings and analyze blood oxygen during sleep.
You can use the Blood Oxygen app to run a 15-second SpO2 test, which is logged in the Apple Health app.
Or use it while you sleep, the readings of which can help manage sleep apnea. This will allow you to consult with your doctor if you have any questions.
Although it looks nothing like a traditional wristwatch, the Apple Watch is a smartwatch with near-perfect design and functionality.
It Has Everything You Could Wish For
The Apple Watch Series 6 has GPS, and some versions have LTE for making calls and streaming music when you're not carrying your phone. The fitness tracking is quite accurate and with a good level of detail.
It is also waterproof, making it a great device for the pool or when you go for a run. On the other hand, the integrated electrocardiogram ECG function offers complete monitoring of heart health.
It also has an application for breathing exercises, for hearing and another to track your menstrual cycle. But like most smartwatches, the battery won't last much more than a day. And of course, if you have an iPhone, this is the best pair.
Fitbit Sense
The Fitbit Sense is a perfect smartwatch for these stressful times . And it is especially focused on mental well-being and it seems to be one of the best oximeter watches.
Like some current smartwatches, it includes an ECG sensor to detect signs of atrial fibrillation. Also, heart rate irregularities and even share the results with your doctor. So to take another step towards a healthy lifestyle, the ambitious Sense could be the tool to help you.
Still, its stress-monitoring feature is where it really shines. And you can use it every day, not just in a health crisis.
Best For Sleep Tracking
The downside is that many of these stress tools are only available to Fitbit Premium subscribers. Among them, meditation sessions and mindfulness tutorials. However, the Sense comes with a six-month free trial. This allows you to reap its benefits and consider whether it is worth extending the subscription later.
The fitness tracking features the Sense offers are impressive too. And especially if you are interested in training using heart rate zones. To do this, it has a wide range of activity tracking options. Plus, with the help of the Fitbit app, you get numbers and stats related to your workout, when you're done.
The Fitbit Sense is a smartwatch designed so you can take your well-being seriously. It helps you understand your body and mind and make changes to improve your physical and mental health. And you will not have to worry about charging it every day, since with one charge you will have almost a week of battery life.
Pros And Cons
✓   + Detailed record of mood and stress + A smartwatch with oximeter + integrated GPS for workouts + Almost a week of battery life + Very comfortable to wear.
✗   -Many tools require Fitbit Premium -Step counts are not 100% accurate.
Also Read : Everything You Need To Know About How To Save Images In Windows 10