How To Manage Time Efficiently?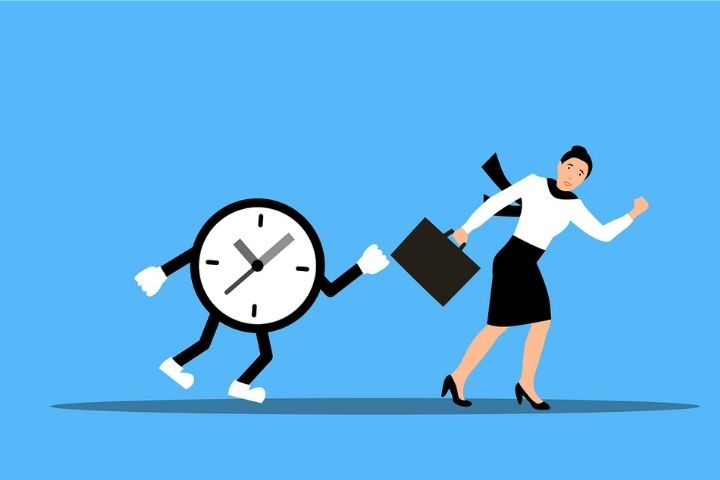 At some point we have all felt overwhelmed, with a thousand things to do and without knowing how we are going to get to everything. When this happens, spending more and more time at study or work is usually not the best solution.
What should be done then? Basically you have to develop two habits. First, don't get distracted when you're working. The second is to think before committing to anything that will require your time. This way you will have fewer things to do, and you will do them faster by making better use of your time. Get organized and schedule each goal or task on your schedule and commit to accomplishing it. It sounds simple, but it isn't, is it? In this article you will find practical advice to achieve it.
Our time is one of the most valuable assets we have. A rare commodity, impossible to recover when lost, and yet too often wasted. If you are one of the many who want to make better use of their time, we propose 3 simple steps for you to squeeze in every minute. 
STEP 1. Stop wasting time. There are a thousand and one ways to waste time, and many times we do it without even realizing it. One thing you can do right now to be more efficient is watch how you spend your time when you're "working."
STEP 2. Decide what your goals are. Good time management is synonymous with prioritizing the activities that bring you closer to your goals. Without clear goals, it is impossible for you to know what is the best use of your time. Another side of the same coin is knowing when to say "no" to people who demand your time. 
STEP 3. Plan to achieve your goals. Planning is key to time management because it allows you to distribute your time in an orderly way among all the things you want to do. It's also important to keep track of your progress.
Step1: Stop Wasting Time.
Surfing the Internet, hanging out with friends, watching TV… I'm not saying you can't spend any time doing this kind of thing, but do you know how much time you spend? Is it really what you want to do with your time? Many times the problem of not having a minute to do what is really important is that we lose the day in nonsense without realizing it. 
Why We Waste Time
There are many reasons why we waste time, but perhaps the main one is that we do not give it the value it has . The time is gold. It is a saying that is required and with which I would dare to say that we all agree. However, almost all of us waste part of our time on things that do not interest us, why? Here are some of the main reasons: 
Not planning. It is common for us to get to work on what is emerging or going through our head without having any plan of how it would be the most effective way to do it. This is one of the main reasons why we miss our days and easily deviate from our goals. If we do not plan, it is very easy to waste time asking ourselves over and over again: "what do I have to do now?" or "where was he going?" 
Step 2. Decide What Your Goals Are
The next thing you have to do to take advantage of the time is to know what you want to achieve with it.
What Do I Want To  Invest My Time In?
Now that you know that you have more time than you thought, take a sheet of paper and think about what you want to achieve. Aim high! Write down your goals, both at the level of studies and personal life (staying with my friends for a couple of hours a day, studying piano, practicing an hour of sports every day …) and think about all the things you would like to do with the 24 hours that each new day offers you. 
From there, you can make a list of things you want to do. You already have the first part of the work to decide how to use your time and get the most out of it. 
How Your Goals Should Be
Before launching into planning, it is very important to take time to define your goals well, as they are the source of your motivation. Think about what drives you to fight for those goals and always keep it in mind for moments of weakness. The desire to achieve your goal should give you the strength to do what you have to do. 
It is very important to write your goals. You can always keep them in mind and you will not have to ask yourself again what it is you want to achieve. Then, based on this, it will be easier for you to plan a series of actions in the long, medium and short term. 
Step 3. Planning
Taking time to plan is undoubtedly one of the best things we can invest our time in. Good planning is like a good roadmap: it tells us what we must do at all times to reach our goals. 
Planning is an excellent habit that we can all develop. The more ambitious our goals, the more important it is to have good planning. If you make a plan that divides the work of achieving a great goal into small steps, taking each step will be like a mini-success that will motivate you to continue.
Where Do I Begin
Distinguish what is important from what is urgent and start working each day on those things that will bring you the most benefit. For example, if you have the following two tasks:
How To Plan
Various experts in time management recommend doing a weekly planning and then going into the details of the day to day. Daily planning gives a very limited vision of what we are achieving, while weekly planning gives us a more global vision of what we want to achieve and allows us to see our achievements. 
When deciding how to organize your day, keep in mind which are the best moments for you to do each thing. For example, if you are one of those who need absolute silence to study and you concentrate better at night, you can do class exercises in the afternoon and study after dinner. You are the one who knows best when you are most productive doing what. Plan around it. 
Also Read : Tips To Increase Engagement On Facebook