Google Pixel 6 Pro Review: A Flagship To Be Reckoned With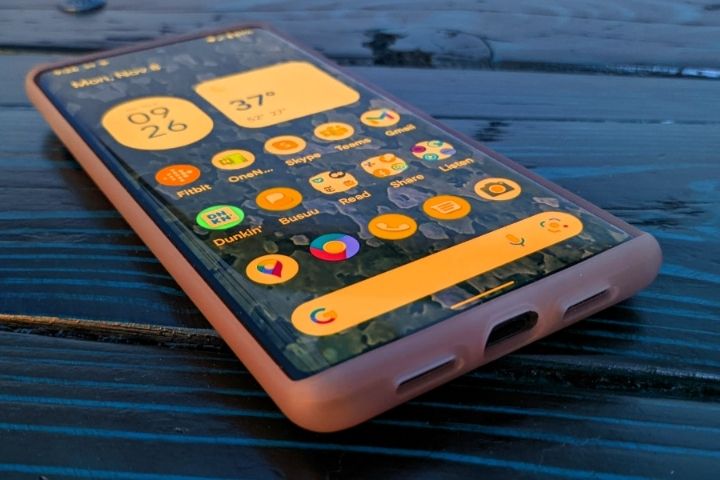 Google Pixel 6 Pro : The Pixel 6 and 6 Pro are the most "Google" smartphones that the Mountain View company has offered us so far. For the first time, they are equipped with a system on a chip developed internally thanks to which Google has been able to push the integration of its artificial intelligence algorithms like never before to make the user experience more comfortable and personal. 
The Pixel 6 and Google Pixel 6 Pro also inaugurate a new and truly distinctive design, with very qualitative finishes. If the photo part remains their main asset, we feel that Google has done a lot to improve versatility and bring a high-end touch. After the Pixel 6 ( 649) which has confirmed hands down the expectations we placed in it, here we are in the presence of the Pixel 6 Pro. Announced at $899 , it is launching an assault on the Olympus of high-end smartphones where the iPhone 13 Pro , Samsung Galaxy S21 Ultra and other OnePlus 9 Pro are already enthroned .
The Pixel 6 and the Pixel 6 Pro have a lot in common, starting with their SoC Tensor, their aesthetics, their robust design (IP68), the main part of their camera and of course Android 12. To complete your discovery, we invite you to read our Pixel 6 test , many of whose comments apply to the 6 Pro.
An Identifiable Design And A Premium Finish
Without going into detail on the new look that we have widely talked about for the Pixel 6, we can repeat all the good things we think about it. Google wanted to give character to its smartphones and it succeeded. The Pixel 6 Pro takes this distinctive aesthetic signature and adds high-end markers to it with the curved-edge OLED screen and the (recycled) aluminum frame in a glossy finish. The premium feeling is there, the soft and pleasant touch .
What we particularly liked is that, although it uses a slightly more spacious screen ( 6.7 inches compared to 6.4 inches ), the Pixel 6 Pro is only slightly larger and heavier than the Pixel 6. : 210g on the scale (vs 207g) and a few millimeters more in height and width for a similar thickness of 8.9mm. It's thin and compact enough to slip easily into a front trouser or jacket pocket and is easily held in one hand.
However, there is one detail that bothers us. The Pixel 6 Pro is only available in a single "carbon black" finish which plays on two shades of gray separated by the horizontal photo module. It's sober and elegant, but the back has an annoying tendency to attract fingerprints. Like the Pixel 6, the screen is protected by the latest reinforced glass from Corning, Gorilla Glass Victus and the back is entitled to Gorilla Glass 6 . Both smartphones are water and dust resistant ( IP68 ) and can withstand immersion at a depth of 1.5 meters for 30 minutes.
The Best Screen Ever Seen On A Pixel
For the display of the 6 Pro, Google went with a 6.7-inch LTPO 1440 x 3120 pixel Oled panel with an adaptive refresh rate of up to 120 Hz . LTPO is the acronym for low temperature polycrystalline oxide or polycrystalline silicon at low temperature. This is a technology found on the screens of some high-end smartphones, such as the Galaxy Note 20 Ultra , Galaxy Z Fold 2 , Galaxy S21 Ultra ,  Oppo Find X3 Pro , OnePlus 9 Pro as well as the iPhone 13 Pro Max. The LTPO combines three key advantages: supporting high resolution (512 ppi on the Pixel 6 Pro), variable refresh rate and ultra-low power consumption.
In use, the Pixel 6 Pro screen is impressively sharp, responsive and bright . Readability is excellent in all lighting conditions and the adaptive brightness does its job perfectly. Its thin, curved edges amplify the immersive effect of the display, which takes up 89% of the front . Certainly the best screen we have ever seen on a Pixel smartphone and a real treat to use
Performance Worthy Of Its Rank
The Pixel 6 Pro uses the same Tensor SoC as the Pixel 6 with more RAM: 12 GB versus 8 GB . Again, we refer you to the little brother test for details on the overall performance which is quite excellent to meet all uses and needs . Apps launch without delay, the camera responds instantly, and you can easily juggle multiple apps and browser tabs simultaneously. It's also good at streaming video and audio, though its stereo speakers are a bit lacking in trunk 
The benchmark results are quite close between the two smartphones for pure performance and multitasking. But 3DMark highlights an advantage in favor of the Pixel 6 Pro on the gaming part. Both are doing very well in this area, but the Pro was even more comfortable and fluid on a hyper-demanding title like Genshin Impact, no doubt thanks to the extra RAM giving it a welcome little boost. The fairly pronounced heating phenomenon noted on the Pixel 6 is also present, but it does not alter the gaming experience . The Pixel 6 Pro is perfectly versatile and takes on the most intensive tasks without flinching. Like the Pixel 6, it features the Titan M2 security co-processor which protects sensitive phone data against the risk of hacking with malware and phishing. And it is entitled to security updates for five years .
Average Battery Life
Google advertises up to 24 hours of use for the Pixel 6 Pro with its 5,003 mAh battery and up to 48 hours with Battery Saver . During our test where we alternated common uses (calls, messaging, email, web browsing, video and audio streaming, photo) and more intensive sessions (benchmarks, games, etc.), we were generally able to run full days without forcing . 
Let's say that with more conventional use, you can easily aim for a day and a half of autonomy , which is satisfactory. On the other hand, if you play long games of voracious games such as Genshin Impact or Asphalt 9 and put a lot of strain on the camera, expect to have to do a back-up charge at the end of the day .
Pixel 6 and 6 Pro are compatible with 30W fast charging , which can restore 50% battery life in 30 minutes . But, like other manufacturers, Google no longer includes a power adapter, just a USB-C cable and a USB-C/USB-A adapter. The 30W charger is sold as an option at $29 , as is the 2nd generation Google Pixel Stand ( $79 ) which allows fast wireless charging up to 23W for the Pixel 6 Pro. Personally, we used the Pixel 5 's 18W charger which did the job perfectly, even if the charging time is significantly longer.
A Large Photophone
Except for the 4x optical zoom telephoto lens , the 6 Pro shares the same photo setup as the Pixel 6. Our feedback on the performance of the Pixel 6's 50MP main wide-angle sensor and 12MP ultra-wide-angle sensor are absolutely valid here.
Like its little brother, the Pixel 6 Pro delivers photos with impeccable clarity, with great detail, particularly well-managed exposure and a white balance never faulted . The SoC Tensor has been designed to multiply the capacities of image processing algorithms which are proving to be extremely efficient. The 1/1.31 inch sensor and its 1.2 micron photosites collect a lot of light and information, which allows it to masterfully manage delicate conditions such as shots facing the sun or at night with lighting. lively. The balance between high and low lights is always right .
The HDR processing provides the necessary liveliness without forcing too much on the contrast and saturation as is the case with a lot of competing photophones. Purists can also activate the RAW+JPEG mode. The RAW (DNG) files will then be saved separately in a dedicated folder. At night, the level of detail is almost as high as during the day , again thanks to the magic of Google's algorithms.
For video, the Pixel 6 Pro shoots 4K at 30 or 60fps and 1080p at 30 or 60fps, with optical image stabilization.
What does the 4x telephoto lens (104mm equivalent, f/3.5 aperture) bring? It widens the creative field. We were impressed with the sharpness and amount of detail it provides, both in the center and at the edge of the image . Its optical stabilization is a major asset that avoids the problem of motion blur. 
In our Pixel 6 Pro trial, the telephoto lens on many occasions allowed us to go further in composing our photos than we did with the Pixel 6. Whether it's catching details from a distance or to capture the delicacy of certain textures as closely as possible, it brings real added value. And when night comes, it manages to maintain a very satisfactory result thanks to the efficiency of the software processing. The other nice surprise comes from the 20x digital zoom which is not a gimmick . In broad daylight, it manages to retain an impressive level of detail and sharpness.
With this telephoto lens, the Pixel 6 Pro's photo combo gains the necessary versatility that makes it a perfect photophone for capturing precious everyday moments as well as during a trip. And all this while remaining very easy to use and accessible to the uninitiated who just want to take "beautiful photos".
Video Selfies In 4K
On the front, the Pixel 6 Pro switches to an 11MP camera with an ƒ/2.2 aperture (compared to 8MP on the Pixel 6) well suited for group selfies thanks to its slightly wider viewing angle of 94° (against 84°). Another advantage, it can film in 4K (30 fps) and 1080p (30 or 60 fps).